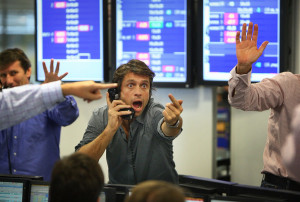 Did you know that to become a forex trader, you have to open a LIVE or REAL trading account with a forex broker?
A forex broker's main function is to enable small time clients like you and me to enter and trade in the forex market with a small deposit (for example USD 100) by using a concept known as leverage.
Without the help of forex brokers, it is virtually impossible for small-time traders like you and me to trade side by side with banks and large financial institutions with billion dollars invested.
Yes, forex brokers are a great help. They contribute a lot to the forex ecosystem.
Having said that, not all forex brokers are created equal. Only a small percentage of them are actually quite good. Most of them are "borderline" scammers who cheat money from unsuspecting novice traders!
How To Identify "Good" Forex Brokers?
I use a very simple method to evaluate whether a forex broker is good or bad. This rule of thumb method has served me quite well. Using this method, I have avoided unnecessary heartache and loss of money.
Always ensure that the forex broker you open an account with is regulated by financial institutions in either one of these 3 countries: United States, United Kingdom or Australia. (Well, and also Cyprus)
They should have extremely fast customer service. Forex brokers that don't answer your email inquiries or answer after 2 weeks can be considered as a borderline scammer. This is very important. Your mental well being depends on it. Forex brokers that don't answer emails cause a lot of headache especially when it is related to MONEY.
Transparent Processes. No hanky panky, no inside deal, no trading against traders. Everything about the broker should open to the public. They should also be audited by external parties.
Fast and GUARANTEED withdrawal. This is the most important criteria. I know of a lot of forex brokers that don't pay profits to clients or delay payment. Don't open an account with these brokers!
My Recommendations?
Since I am residing in Malaysia and based on my personal experience, I can only recommend TWO forex brokers that fit the criteria above:
Fxprimus (Obviously!)
Fxprimus is regulated by Cysec with good customer service and both have FAST withdrawals.
So there you have it. Some good info to help you decide on the forex broker to open an account with. All the best!
P.S. Btw, the SECRET to make consistent PROFIT in forex is the ability to identify good, profitable trade setups or signals and formulate a strategy to enter the market and later, exit the market once profit is made. The potential profit in forex is very huge! Watch This Video To Learn How To PROFIT At Least 200 Pips A Week With Forex…